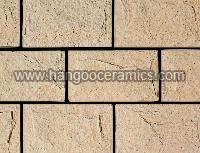 The Castle Stones tiles developed by some of the leading manufacturers in India are hand-crafted replicas of original antique marble and limestone tiles. These are originated from historic Flemish, Old Italian mansions, villas, castles, monasteries, and churches. Castle Stones Bricks are replicas of old English and Dutch blocks no longer produced this way.

History of castle stones:

The originals are referred to as Waaltjes, are the world's oldest manufactured construction elements. They were made from clay and then put into a furnace. Encouraged by historic structures and the regeneration period, these Castle Stones are manufactured with innovative blending and solidity techniques using minced limestone, prime quality cement, and dyes.

Specifications of Castle stones:
With their outstanding look and feel, Castle Stones now available as tiles can hardly be distinguished from vintage floorcoverings. These stones are very useful in making any construction unique as these are available in three different models and eight colours, each with three shades. The colour palette ranges from light beige to dark grey. Castle Stones are especially lightweight and thin (from 6 to 8 mm), so they can also be put in older houses and buildings categorized under cultural heritage statute. All tiles and stones are easy to sustain and colourfast.

Applications of castle stones
Castle Stones tiles can be used on floors and walls. These stones or block are also perfect for kitchens and bathrooms as well as spaces with in-floor heating. The special attraction of Castle Stones blocks makes them ideal for kitchens, bathrooms, entrance halls, fireplace lounges, and wine cellars. Every single block is hand-crafted that makes every flooring layout as special one.

In the final study, the stimulus of a new and pioneering product with a classical background lies in its features and the consummate choice of the right materials.

How is it made?
The Castle Stones tiles developed by manufacturers in India are hand-crafted facsimiles of original vintage marble and sandstone tiles. Enthused by old ruins, and historic structures, these hand-made Castle Stones are manufactured with ground-breaking blending and compression techniques using powdered marble, high-grade cement, and pigments.

Where to get them?
Numerous castle stones manufacturers are producing and supplying high-quality stones in the market. They are fulfilling the demands of these stones in different sectors. However, the overall function of these stones is to impart a firm and just decent structure.
Here are a few things professional installers will do to make sure your project is done according to plan:

• Check tiles for quality and use fit
• Cut tiles with precision
• Sort tiles to consider how to lay them in a way that enhances the appeal of variations that are inevitable in natural stone
• Know which stones need which installation method

Qualities of top castle stone manufacturers:
• customer-centric nature
• commitment to high-quality
• flexible in our approach for urgent and bulk requirement
• Capable of customizing of order according to specifications.
• the time stipulated and damage-proof delivery
• bulk supply at market leading price
If you are interested in buying Castle Stones please contact top Castle Stones manufacturers who can deliver nationwide.
This entry was posted on January, 28, 2021 at 23 : 01 pm and is filed under Castle Stones. You can follow any responses to this entry through the RSS 2.0 feed. You can leave a response from your own site.